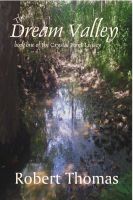 It's a fun ride to be an author. It's a constant challenge to develop the stories and the characters but the payoff is tremendous. Just to feel that book in your hand and that it is yours! You created it. Well, mine actually. It's an accomplishment and one I am very proud of.
However, it helps if someone actually reads what you write. Here is another chance to pick up a freebie from me. Yep, zilch, zippo, nada, two bits minus a quarter. Can you say FREE?
Just go to
http://smashwords.com/books/view/227411
and enter the coupon code RW100. You'll then be able to download The Dream Valley for free. It doesn't matter what device you read on because there are all the formats you'll need, anywhere from iPad to Kindle to Nook, Kobo and others.
The Dream Valley is book one of The Crystal Point Legacy series, an epic fantasy book.
I truly hope you enjoy this work. This promotion runs through Saturday, March 9th.